WELCOME TO CUSTOM CASE MANAGEMENT
Our boutique-like services are the perfect choice for your business and employees.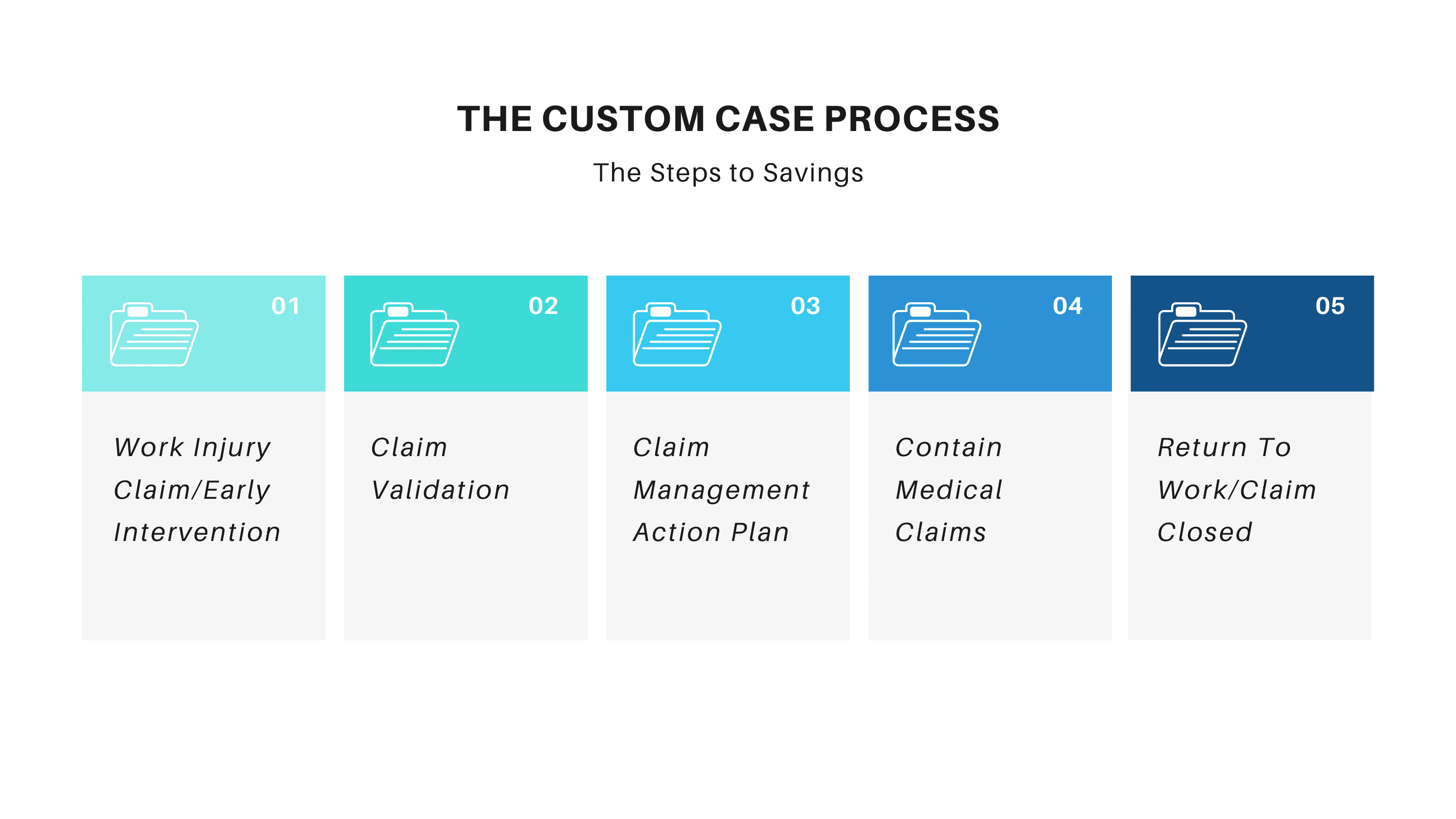 CUSTOM CASE MANAGEMENT SERVICES
We consider every client to be a key account. Knowing there is no "one-size-fits-all" case management solution, we identify hidden barriers that prevent claims resolution and the workers' compensation experience to address them efficiently and effectively. We provide the full range of claims-resolution services, custom tailored to meet each client's needs. Whatever level of case management you require, we have the expertise, experience and integrity to deliver optimal results at reasonable rates with a boutique-type experience.
Custom Case Management ensures the injured workers receive the appropriate medical care for their reported work injury (injuries) and return to work in the appropriate time frames. Ultimately, managing potential barriers to case resolutions and reducing the total cost of workman's compensation. Our collaborative approach requires a strong connection with both our clients, their partners and our partners. Our Nurse Case Managers are at the heart of your workers' compensation program. As a result, we become an integrated resource, an extension of your own team and take an ownership approach to every engagement which ensures the company's success. Our goals are to save you time and money while providing the best possible customer care.
Some cases require a Catastrophic Nurse Case Manager (NCM). At Custom Case Management, the average NCM has 15 years of experience in nursing and in case management. The complexities and severity of these injuries require management of the case immediately. The quicker the response the better the outcome for all parties involved. The NCM will be responsible for the day to day activities and communications between the company, the employee, physicians, healthcare providers, physical therapy providers and/or case adjuster.
The NCM will be present at physician appointments to ensure appropriate communication with all parties occur and for timely case resolution. These injuries also typically need the coordination of special equipment, residential support (on and off site) and family and peer support with a common goal of establishing and maintaining a new level of normalcy for the patient, reducing the lag time from inefficient treatments, and/or returning the employee to their home. The NCM becomes the family's primary support, point of contact and provides continuity for the family.
Some cases require Field Case Management. We will provide you an experienced case manager to handle all aspects of your medical claim. From the time of injury until your injured worker returns back to work, Custom Case Management will facilitate and manage your medical file. We review all aspects of your medical file as it pertains to your injury. We collaborate as a team with the claims adjuster, injured employee, medical providers and employers to facilitate all aspects of the file to expedite an earlier return to work and improved outcome.
Our Telephonic Case Managers are an instrumental in many ways. They manage your file and determine the current medical status and ensure proper medical treatment is provided. Their availability permits them to build a rapport with the injured worker while managing their care effectively. Our nurses are able to keep abreast of any new developments while also ensuring that the injured worker feels supported. Immediately having a TCM in place can ensure proper care and treatment and reduce overall claim cost